This incredibly mouth-watering cream can be bought in spciality stores, but it is also easy to make at home. A blender, a few ingredients, and after a few minutes you can mix pita or vegetable strips into this divine food.
Many times, people who follow a non-vegan lifestyle are worried about the lack of protein and various vitamins. It is certain that the vegan lifestyle also teaches awareness, but it is not difficult at all to be able to live a healthy life as a vegan.
Back to the hummus…I personally can eat a whole bowl at a time.
It is a perfect addition in a sandwich and can be made even more colorful with various vegetables (boiled sweet potatoes or beets, grilled capsicum).
But before jumping into the recipe
we must mention the most important factor, the nutritional content of hummus ingredients.
Thanks to chickpeas and tahini, hummus contains approx. 8 grams of protein (when eaten with pita or bread it can be considered a complete source of protein), as well as approx. 9.5 grams of fat and 14 grams of carbohydrates.
Tahini also contains many important minerals, such as iron, which is essential for blood formation, copper, which helps iron absorption, selenium, which acts as an antioxidant to help reduce inflammation, calcium, which is essential for healthy bones, and zinc. , which, among other things, plays an important role in healthy immune function.
In addition to its protein content, chickpeas contain large amounts of many important minerals, as well as vitamins such as folic acid, vitamins B1 and B6, and essential fibers.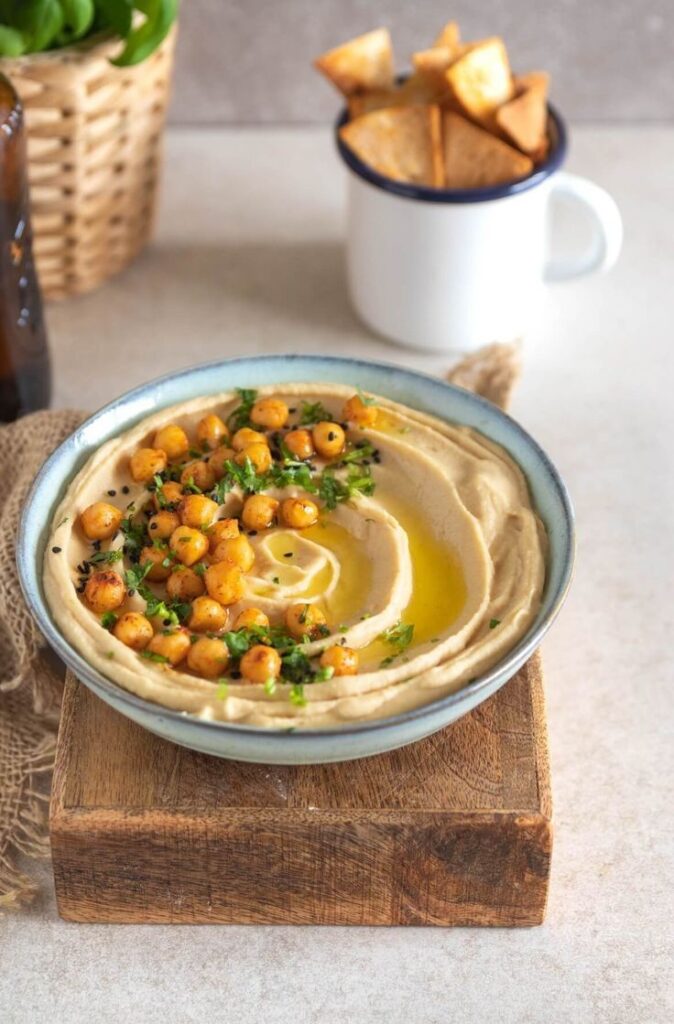 Ingredients:
400 g of boiled chickpeas
60 ml of olive oil
3 tbsp tahini, a paste made from sesame seeds
1 tsp hing
Juice of 1/2 lemon
1 tsp ground coriander
1-1.5 tsp ground cumin
A pinch of paprika powder on top
Salt and pepper to taste
1 ice cube for creaming
Put the thoroughly rinsed, cooked chickpeas in the blender, then add the other ingredients and season to taste.
Blend it and add the ice, if you find it too thick or if your machine has difficulty grinding it, I would sprinkle it with a little more olive oil.
When serving, sprinkle the cream with fresh parsley and olive oil and color it with a little paprika powder.
The perfect snack for watching a movie with toast, pita or carrot sticks and other fresh vegetables is irresistible!
Enjoy your meal!